10 Facts About Native American's Health That Will Make You Nauseous
http://www.crushplate.com/2014/04/10-facts-about-native-americans-health.html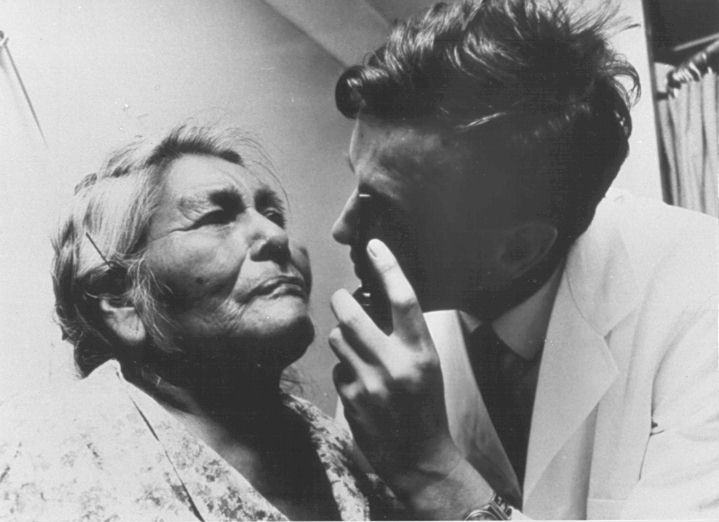 When Europeans arrived on America's shores they brought an awful lot of awful things.
Despite the most optimistic view of the culture exchange between Europeans and Native Americans, it's no secret that the Native populations came out on the
loosing end. Their land was stolen, their way of life uprooted, and their populations were decimated. The most deadly to threat to Native American populations were not the weapons of the Europeans, but the diseases they brought to which Native populations had no immunity.
Illnesses like measles, scarlet fever, typhoid, typhus, influenza, pertussis (whooping cough), tuberculosis, cholera, diphtheria, chickenpox and sexually transmitted diseases including syphilis all proved to be fatal for Native Americans. None disease proved more deadly though than small pox which was responsible for killing tens of millions of Native peoples.
These days Native Americans still face large and looming health issues. Native Americans have much higher mortality rates compared to whites Americans, which is strongly influenced by the high rates of diabetes, smoking, alcohol abuse, and social and medical disadvantages.
Research has found
that higher mortality rates for Native American can be helped through an increase in public health options.
The 2010 census found that 2.9 million people reported to be Native American or Alaskan Native and another 2.3 million reported that they were Native American and a combination of different races.
Of the 308.7 million people in America, 1.7% reported to be full or partial Native Americans. We looked at recent research and found some of the major health challenges facing these Native Americans today.
Native Americans have the highest rate of tobacco uses of any group in the United States and a corresponding high rate of fatal lung cancer. Researchers found th
at, "2 of the 562 federally recognized tribes have adopted comprehensive commercial tobacco-free ordinances on their reservations, and exposure to secondhand smoke is a significant concern in tribally owned casinos and gaming venues that are a source of employment for many AI/AN persons."
Native American women have lower rates of breast cancer than non-Hispanic white women but their cancers are usually diagnosed at a later stage and age. Research has found that
, "the decline in breast cancer mortality among White women, but not among AI/AN women, suggested that there is a need for more targeted screening of AI/ANs and improved access to cancer care to ensure that breast cancers are detected at an early stage and followed by timely, high-quality treatment."
Native American's have a better chance of dying from an injury than non-Hispanic whites
.
Native Americans are 50% more likely to commit suicide than non-Hispanic whites. Males younger than 25 take their life the most.
Car crashes, poisoning, and falls—Native Americans have twice the chance of dying from these as non-Hispanic whites.
Native American infants don't fare any better-their death rates are higher, SIDS is more common, and they are four times more likely to die from pneumonia and influenza.
Researchers found that, "socioeconomic and behavioral factors, primary health care access and utilization, and infant care issues influenced AI/AN infant mortality.
Alcohol related mortality has a large impact on Native American populations. The leading causes of alcohol related deaths for Native Americans are hypothermia, alcohol poisoning, alcoholic psychosis, alcoholic liver disease, and alcohol dependence.
Struggle to adapt to climate change for Inuit Native Americans living in Northern Canada has lead to a decrease in personal safety, food and water security, and an increase in mental health
issues. From 1999 to 2009, Canada has invested only $16 million in health research related to climate change and only $3 million was related to adaptation.
Diabetes disproportionally affects minority groups including Native Americans who get the disease at a younger age resulting in more complications. Diabetes is the fourth leading cause of death for Native Americans, though mortality have rates have recently improved.
Learn more here.